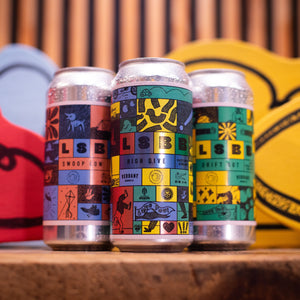 All three of our LSBB collabs in one easy mix pack!

ABV 6.5-8.0%
This year it was our turn to host Little Summer Beer Bash, a brewer-run, intimate beer festival co-hosted by Verdant, DEYA and us.

To celebrate, we've put together a mixed box featuring all 3 epic collabs we have made, one IPA with each of them and one massive 3-way DIPA! 
The LSBB Collab Mixed Pack contains 2 of each of the following;

2 x LHG x Verdant - Drift Out - 6.5% West Coast IPA w/ Simcoe, Centennial and Nelson Sauvin.
2 x LHG x DEYA - Swoop Low - 6.5% Hazy IPA w/ Citra, El Dorado and Simcoe
2 x LHG x Verdant x DEYA - High Dive - 8.0% Hazy NZ DIPA w/ Nelson Sauvin, Riwaka and Motueka

A mixed 6 pack to get the essence of our Little Summer Beer Bash in the comfort of your own home!
Allergens - wheat, barley, oats.
All beers vegan friendly.