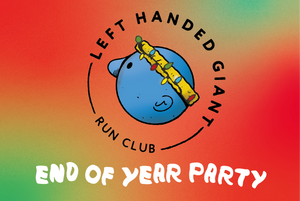 Come and join us in seeing the year out in classic LHG Run Club style with a big old booze up at the brewery!*


Sunday 10th December 11:00am - Late
We'll kick it all off with a filter Coffee from 11:00am

We'll head out for a fancy dress run around the harbour starting at the St Philips Tap Room at 11:30am - so get working on those costumes!

At 1.30pm (ish) we'll do a beer mile - this is optional and is always great fun!

Pizza party will be around 2:30/3pm in the afternoon with pizza from Pizza is Lovely to fill your bellies.

Then in the evening there will be a Raffle with loads of amazing prizes followed by all the beers and a DJ!

TICKET INCLUDES FOOD & 3x BEERS (inc the Beer mile)

See you there :)
**This event is taking place at the St Philips Tap Room not the Castle Park Brewpub**