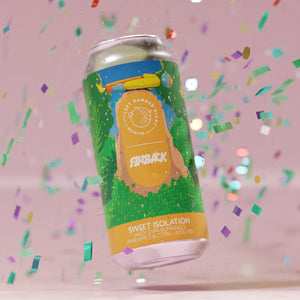 Fruited DIPA with Mango, Pineapple and Citra.
ABV 8.0%
Recently our good friends from across the pond, Finback, came over for a visit and we just had to brew something special.
Putting our heads together, we dreamt up this massive beer that delivers a wave of hoppy character alongside heaps of fruit flavour. A classic malt profile, with plenty of oats and white wheat, with buckets of mango and pineapple. Layered up with additions of Citra throughout, to amp up the juiciness and punctuate with top notes of lychee and grapefruit.
ALLERGENS: Barley, Wheat, Oat
Vegan friendly 🌱
3.52 units per can - please drink responsibly